Active Thermal Management
The trusted name in thermal protection…

Cool-stack I is the cooling solution for small to mid-sized racks. Connecting to the chassis through a 4' cable, the thermal control lets Cool-stack I's operation be controlled by the temperature of a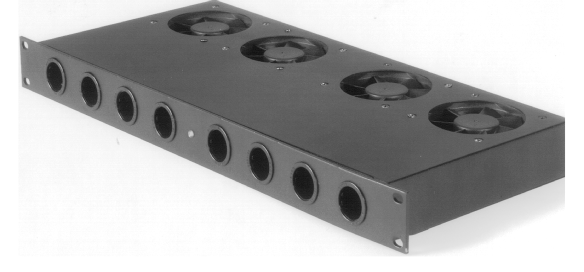 component in the rack. This means fans can turn on later and stay on until residual heat has been removed from the component being cooled.
Cool-stack I is a 1 RU high true rack-mount ventilator. Very quiet in operation, it mounts above the heat producing equipment and pulls the heated air up and out of the equipment, and out through the front of the rack. Four 80mm fans on the under side of Cool-stack turn relatively slowly, making essentially NO noise as they bring room air in and expel heated air through openings on the front panel.
­
For larger rack installations, with larger heat loads, the Cool-stack I is also available in an "intake" model. Mounted low in a rack and blowing cool air UP, with an "exhaust" Cool-stack mounted high in the rack and moving heated air OUT, a strong (but quiet) ventilation current is established.
High output versions of the Cool-stack I are now available. They are 2 dB louder and move 40% more air.
­
(Scroll down for product video)
00-301-03 HO Cool-stack I (high output) (EXHAUST)
00-302-02 HO Cool-stack I (high output) (INTAKE)
00-301-03 Cool-stack I (EXHAUST)
00-302-02 Cool-stack I (INTAKE)